La Barra Golf Club
---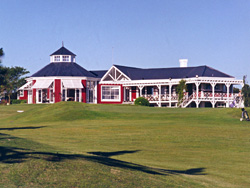 Ruta 104 km 2 ½, Camino del Golf

(042) 774440



Not members: Green Fee from USD 30 to USD 70 (depending on the time of the year). Forbidden the entry for players without handicap in high season.
About 5 kilometers away from La Barra's downtown and 20 kilometers from Punta del Este's peninsula, there is the La Barra Golf Club.

In 1992, by initiative of the uruguayan golfers Gonzalo Vidal and Víctor Paullier, the Municipal Government granted the authorization for constructing a golf course in the place known as the "Cañada de los Flamencos" in La Barra.

Two years later, January 15th, 1994, the course was officially inaugurated and the next day the first tournament was played. By then, the course had 15 holes, but the current 18 holes were finished a month later.

Its layout was designed by Emilio Serra, Marcos Capdepond and Diego Caprile, while Arch. Diego San Martín designed the Club House.

Throughout its 6,346 yards the course has few trees, but on the other hand it has lots of water mirrors that present an important obstacle for the players.

Both tees, fairways and greens, constructed with "Penk Cross" technology under USGA norms, have a modern computarized irrigation system.

The club has an important equipment: 40 karts for two persons and accessories, clubs locker, dressing rooms, driving range, snack bar and heating system in its Club House.

The tournament season extends esentially from december to february, with the dispute of several important championships like Rolex Cup, Seniors Championship, La Barra Open and the Club's Championship itself.
Photo gallery
About the zone La Barra and its spots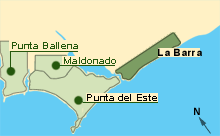 Contrary to popular belief, La Barra was created as tourist resort and was not originally a fishing village, though fishing - especially the species corvina negra - is a classic of the area. The inhabitants of the city of San Carlos, which is inland, were the first to build houses there. ...