Puentes de La Barra
---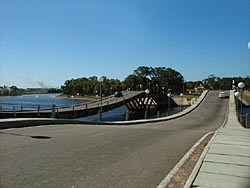 Ruta 10, arroyo de Maldonado


Poet Pablo Neruda wrote a piece about the bridge that crosses the Maldonado River, when he visited Punta del Este as a guest of President Eduardo Victor Haedo.

The bridge is a stroke of genius of Lionel Viera, who never finished his engineering studies.

It was inaugurated in 1965, and is easily recognized because of its curved shape.
Photo gallery
About the zone La Barra and its spots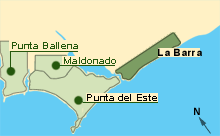 Contrary to popular belief, La Barra was created as tourist resort and was not originally a fishing village, though fishing - especially the species corvina negra - is a classic of the area. The inhabitants of the city of San Carlos, which is inland, were the first to build houses there. ...