Arroyo Maldonado
---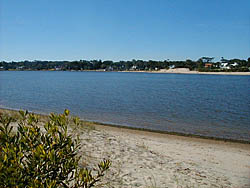 Noreste de la península, desembocadura en La Barra


The Maldonado River is born in the Sierra Carapé, and has several minor tributaries.

It forms islands on its way, Cahuet Island to the north and close to the mouth, Fisherman's Island.

Concerning the islands, there are legends of a hidden treasure, left there by the pirates who once infested the area.

The practical outcome of these legends is that the small populated area on the left bank of the mouth is known as El Tesoro - the treasure.
Photo gallery
About the zone La Barra and its spots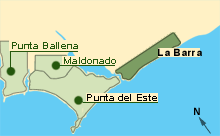 Contrary to popular belief, La Barra was created as tourist resort and was not originally a fishing village, though fishing - especially the species corvina negra - is a classic of the area. The inhabitants of the city of San Carlos, which is inland, were the first to build houses there. ...