Nostalgia en Sheraton Colonia, 4 noches en habitación Doble Clásica con Vista al Golf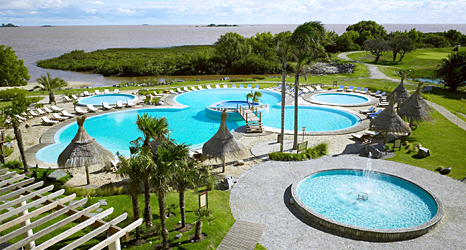 Festeje por los mejores recuerdos con una fiesta inolvidable, donde reinará la diversión, la música, una excelente propuesta gastronómica, y la buena compañia de esas personas especiales.

Inlcuye:

- Alojamiento en base doble.
- Desayuno buffet en el Restaurant Cava Real para dos adultos.
- Opción Family Plan, adicional por desayuno obligatorio para cada menor: USD 6.
- Acceso al Real Spa (piscina interna climatizada con hidromasaje, Sauna y Gimnasio).
- 15% de descuento en masajes y tratamientos.
- Actividades recreativas para adultos y niños

- Tradicional fiesta del 24 en el Gran Salon Cevallos:

- Entradas para dos personas; cocktail, cena, bebidas con y sin alcohol sin cargo hasta las 03:00 hs.
- Show en vivo y DJ.


HOTELS | Colonia | Sheraton Colonia
***** | Colonia del Sacramento
Sheraton Colonia Golf & Spa Resort is conveniently located in the historical quarter of Colonia as part of the Real de San Carlos neighborhood. Only 45 minutes away from...
Request form
Name: +
Email: +
Phone:
In date: + (dd/mm/yyyy)
Comments:
+ Data required