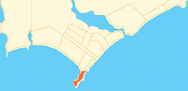 The peninsula of Punta del Este is a piece of land that divides the Rio de la Plata and the Atlantic Ocean.
Gorlero Avenue divides the peninsula in half. It ends on 15th Street, and the land turns towards the east at this point.
Beyond 15th Street high rise construction is not allowed. This means that there is a core of the peninsula with 20 storey buildings, followed by an area of very low houses, some of them very old, dating from the first years of Punta del Este.