Terminal de Ómnibus
---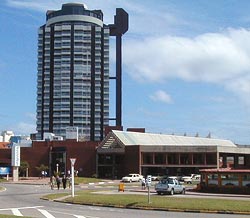 48 68 10-49 40 42














24 hs.

24 hs.

Free
The Bus Terminal of Punta del Este was built where the train station used to stand, and inaugurated on 22 February 1991.

It is a simple and practical building, with a great circulation gallery and capacity for 10 simultaneous buses.

Inside are the offices of all international, long-distance and local bus operators that work the area, as well as small souvenir shops, a cafeteria, tour operators and information offices.

Outside the building you will find a taxi stop.
Photo gallery
About the zone Península and its spots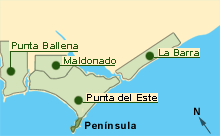 The peninsula of Punta del Este is a piece of land that divides the Rio de la Plata and the Atlantic Ocean. It is about 15 blocks long, and five across. All its streets are named after marine elements (nautical instruments, seabirds, etc.), but everybody refers to them by their number. The...