4 days, 3 nights - from Sunday to Thursday - at Superior Double room from May to September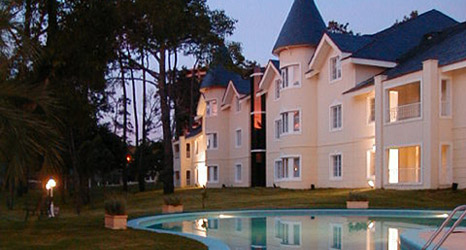 Accommodation at refinely decorated room.

· Superior room
· Buffet breakfast per passenger
· 1 Welcome Lunch or Diner per passenger
· Heated closed swimming pool
· Outdoor swimming pool
· Gym

Important: Not valid for Easter or long weekends, where the rack rates are applied.

The rates are in american dollars for the total stay for two passengers. Rates do not include IVA of 14 %, non resident tourists exonerated.

- Additional room for minors up to 12 years old, 20% discount.
- Minor sharing the room with the parents, 70% discount.
- Extra beds, 60% discount.
- Single rooms, 10% discount.

The percentages are taken from the total stay price for two passengers.

HOTELS | Punta del Este | Jean Clevers
***** | Punta del Este
The complex is located in a 11.084 m² park, in the middle of Punta del Este, between Budapest and Villa Princesa streets -Artigas Bvar. and 7th Bus Stop-, in the former...
Request form
Name: +
Email: +
Phone:
In date: + (dd/mm/yyyy)
Comments:
+ Data required