3 days and 2 nights at Double room with benefits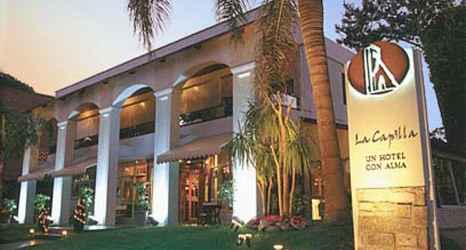 Includes:

· Accommodation in Suite or Apartment room (subject to availability)
· Buffet Breakfast
· 1 diner at Bungalow Suizo Restaurant
· 1 meal (drink included) at Isidora
· 1 movie ticket at Hoyts General Cinema or 1 ticket to the Sea Museum
· Free access to Cantegril Country Club
· 1 welcome drink at Mantra Casino
· Late check out (subject to availability)

The rates are in american dollars for two passangers for the total stay.

Check ins on sunday, monday or tuesday, have one extra night for free (except on holidays).

Attention: Not valid for the long weekend of 22nd-25th August.

HOTELS | Punta del Este | La Capilla
**** | Punta del Este
A hotel with a Soul. Located in the neighbourhood of San Rafael, one of Punta del Este most important residential areas. Only 200 meters away from the sea and 5 minutes...
Request form
Name: +
Email: +
Phone:
In date: + (dd/mm/yyyy)
Comments:
+ Data required