Isla Gorriti
---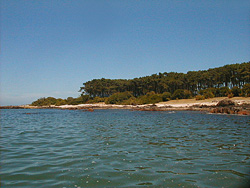 Bahía de Maldonado, 1 1/2 millas de la península

08:00 to 18:30 hs.

09:00 to 17:00 hs.

$100 (USD 3 aprox.) per person
Gorriti Island has an extension of 2 km long by 1 km wide at its narrowest point.

The island takes it's name from Commander Francisco Gorriti, who was prisoner on the island during the first half of the 18th century. Nowadays it's a natural reserve, declared national historical patrimony.

On the West side of the island there is Playa Honda (Deep Beach), a small bay which is a meeting point for yachts and motor boats during summer.

Commercial boats arrive at Puerto Cañón (Canon Port), on the East coast. There is a small restaurant and the overseer's office.

It's a lovely place to spend the day, having barbecues or swimming; sailing around the island is a lot of fun. Spending the night is forbidden though.
Photo gallery
About the zone Ecotourism and its spots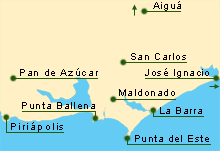 The department of Maldonado has very rich and varied natural attractions. Its shifting territory gives the opportunity of enjoying navigable lagoons and creeks, climbable mountain ranges and hills, and natural caves with its curious histories. From this natural offer, we provide you with...