Laguna Garzón
---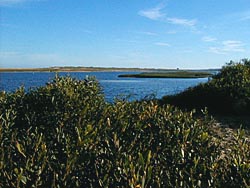 Al este de José Ignacio, límite departamental



Lake Garzón is the limit between the departments of Maldonado and Rocha.

It is the second largest lake in Maldonado, after Laguna del Sauce.

Its tributaries are the streams Garzón, La Cruz and Anastasio, and with the latter it forms a lake that bears the same name towards the west. It is surrounded mostly by sandy beaches.

Laguna Garzón is deeper than its close neighbour Laguna José Ignacio (which lies some 10 km to the west).

It is also perhaps more beautiful in a wild sort of way, and as it is less populated the animal life around it is incredibly rich and varied.

It is also ideal for windsurfing and fishing.

The sandbank separating it from the Atlantic is stronger than José Ignacio's, so the lake is not as vulnerable to the whims of winds and sea.
Photo gallery
About the zone Ecotourism and its spots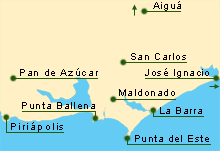 The department of Maldonado has very rich and varied natural attractions. Its shifting territory gives the opportunity of enjoying navigable lagoons and creeks, climbable mountain ranges and hills, and natural caves with its curious histories. From this natural offer, we provide you with...