Cerro Pan de Azúcar
---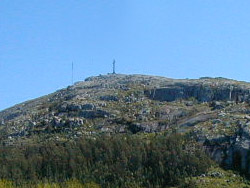 Ruta Interbalnearia a 6 km. de Piriápolis

Pan de Azúcar hill, with its 339 m is the third highest in the country.

Its name dates back to at least 1717, when it was mentioned after a territorial reconnaissance by Captain Juan Hidalgo.

It is possible to climb it from the southern side.

The stairs are marked with red arrows.

It is not a dangerous climb, anyone in reasonable shape can attempt it.

In the summit there is a large cement cross that can be seen from Punta del Este.

It was designed by sculptor Juan Zorrilla de San Martín and Father Engels Walters.

It was inaugurated in 1933, and is 35 metres high.

It is possible to climb inside the cross and see the view from inside the "arms", but the view is just as good from the base.
Photo gallery
About the zone Ecotourism and its spots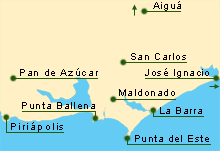 The department of Maldonado has very rich and varied natural attractions. Its shifting territory gives the opportunity of enjoying navigable lagoons and creeks, climbable mountain ranges and hills, and natural caves with its curious histories. From this natural offer, we provide you with...