Maldonado
---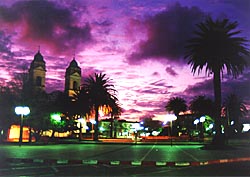 The city of Maldonado is the capital of the department of the same name.

It was founded in 1757 when the governor of Montevideo, José Joaquín de Viana decided to move the small settlement on the shores of Laguna del Diario to the present site of the San Fernando Square.

Since then, the former town has shown a sustained growth.

Its urban planning follows the grid pattern ordained in the Spanish Code of the Indies.

Surrounding the square are the Police headquarters, the Cathedral and a former Army building which has become the Paseo de San Fernando.

The commercial center of the city is concentrated on Sarandí street.

The construction boom of Punta del Este did not affect Maldonado in any major way, so the colonial past of the town is quite obvious in its architecture.

The last population census for the department of Maldonado showed that there is an internal immigration flow of 20%. The stable population of the department is 130,000 souls, of which 80,000 live in the city.

Photo gallery
Map location and spots at Maldonado