Península
---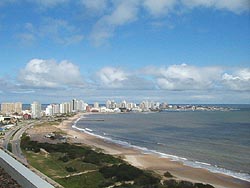 The peninsula of Punta del Este is a piece of land that divides the Rio de la Plata and the Atlantic Ocean.

It is about 15 blocks long, and five across. All its streets are named after marine elements (nautical instruments, seabirds, etc.), but everybody refers to them by their number.

The numbers start on the southern tip of the peninsula, called Punta Salinas, up to 31st street where the Nogaró Casino is. At his point is the peninsula's geographic beginning.

Gorlero Avenue divides the peninsula in half. It ends on 15th Street, and the land turns towards the east at this point.

Beyond 15th Street high rise construction is not allowed. This means that there is a core of the peninsula with 20 storey buildings, followed by an area of very low houses, some of them very old, dating from the first years of Punta del Este.
Photo gallery
Map location and spots at Península