Museums
---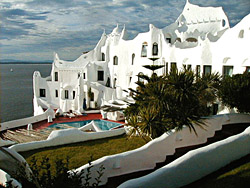 Punta del Este has few museums, however they are all very interesting and appealing for the tourists.

From invaluable pre-columbian, native and colonial art collection, to the most important latin american contemporary art collection in the world.

Among the first, you can find the Museo de Arte Americano and the Museo Regional Francisco Mazzoni, both in Maldonado, or the Museo Histórico Regional in the city of San Carlos.

Referring to contemporary arte, the most important museums are the Museo Nicolás García Uriburu from the capitol city and the Museo Ralli, located in the residential neighbourhood of Beverly Hills, and last but not least Casapueblo, an icon of art in Punta Ballena.

There are also historical places like the Cuartel de Dragones de Maldonado or La Azotea de Haedo (old house of Eduardo Víctor Haedo, former president of Uruguay) that have been added to Punta del Este's museums circuit.

The Museo del Mar in La Barra must also be mentioned, devoted entirely to the sea world.
Photo gallery
Map location and spots at Museums