Marco de los Reyes
---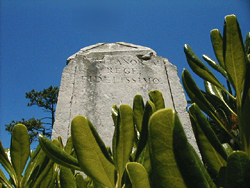 Rafael Pérez del Puerto y Zelmar Michelini, Plaza del Vigía






This block of marble was rescued from oblivion in 1895 when it was dug up and brought to Maldonado from the Sierra de Carapé, by order of the Political Chief of the Department, Colonel Melchor Maurente.

Originally there were three of these marble boundary stones, and their purpose was to mark the frontier between the Portuguese and Spanish Empires after the Madrid Treaty of 1750.

Another of these "marcos" or frames still exists in the department of Rocha.
Photo gallery
About the zone Maldonado and its spots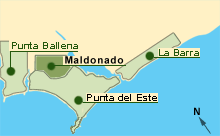 The city of Maldonado is the capital of the department of the same name. It was founded in 1757 when the governor of Montevideo, José Joaquín de Viana decided to move the small settlement on the shores of Laguna del Diario to the present site of the San Fernando Square. Since then, the former...