Museo Histórico Regional
---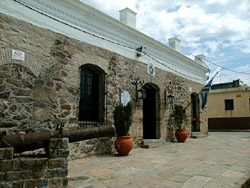 Carlos Reyles y Gral. L. Olivera

66 50 57






10:00 to 20:00 Mondays to Fridays - 13:00 to 20:00 Saturdays and Sundays

Closes at 18:00 hs.

Free
This house dates back to 1782.

Its first use was as a jail by the Spaniards, and as the town council in a later time.

Today, perfectly restored, it houses the Regional Museum, with collections from private sources and museum friends.

It has three exhibition halls and one conference room.

From the entrance to the left we find a room with colonial furniture and garments, and private stamp collections and period objects.

Towards the right there is a hall mainly dedicated to Indian archaeological finds: "boleadoras", arrows and other weapons found mainly in La Barra, Manantiales and José Ignacio.

The third room contains weapons from the colonial and revolutionary periods, military uniforms and other period articles.
Photo gallery
About the zone Museums and its spots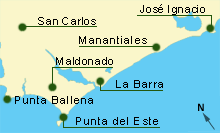 Punta del Este has few museums, however they are all very interesting and appealing for the tourists. From invaluable pre-columbian, native and colonial art collection, to the most important latin american contemporary art collection in the world. Among the first, you can find the Museo de Arte...